Due to the current global pandemic's ongoing health and safety concerns, travel restrictions, and subsequent logistical and ethical travel implications, all faculty-led study abroad programs will not be supported through August 1, 2021.
The Slovenia, Croatia & Bosnia program has been postponed to summer 2022, and the Music in Europe and Berlin, Germany, programs have been cancelled. See below for the new program line-up.
For more information on Principia's response to the global pandemic, visit the Update Center.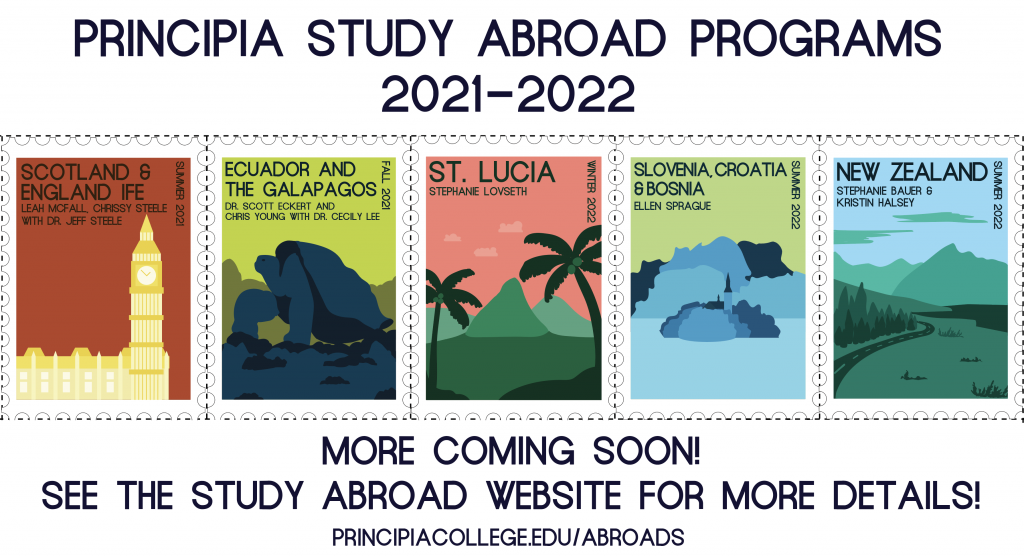 August 2021
Scotland & England International Field Experience
Led by Chrissy Steele, Associate Professor of Theatre, and Leah McFall, Assistant Professor of Theatre and Costume and Set Designer, with Dr. Jeff Steele, Associate Professor in multiple disciplines
Fall 2021
Ecuador & the Galapagos
Led by Dr. Scott Eckert, Professor of Biology, and Chris Young, Assistant Professor of Philosophy, with Dr. Cecily Lee, Visiting Faculty
Winter Break 2021-2022
St. Lucia
Stephanie Lovseth, Instructor of Educational Studies
New Zealand
Led by Stephanie Bauer, Instructor of Mass Communication, and Kristin Halsey, Instructor in the Center for Teaching and Learning
Slovenia, Croatia & Bosnia
Led by Ellen Sprague, Associate Professor in the Center for Teaching and Learning