By Jolee Keplinger |September 21, 2022
As a recent graduate, I am always looking for ways to connect to the local food system in Raleigh, NC. I've visited various farmer's markets, and have started growing my own food, aka, a tiny herb garden on my apartment balcony. I dream of having a house with a garden one day, but for now, I enjoy caring for a small collection of apartment-friendly herbs and plants. Growing herbs has been especially rewarding, since they have a variety of culinary uses, and nutritional benefits.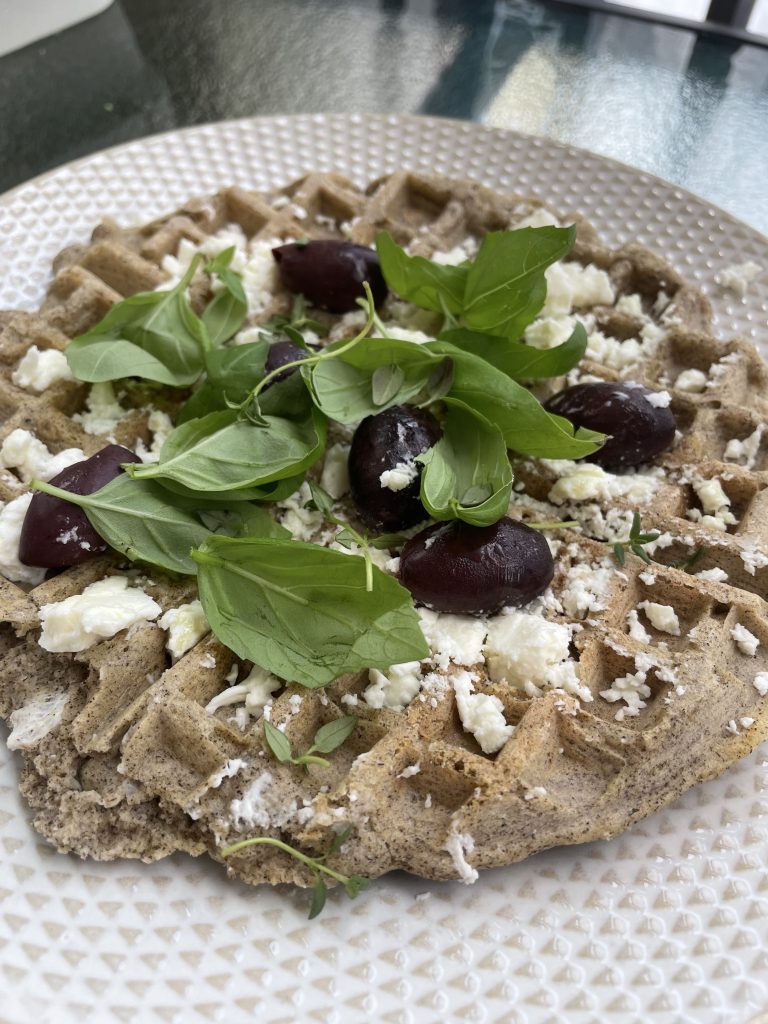 From a sustainability standpoint, growing your own herbs can help reduce plastic waste, since fresh herbs at the grocery store are typically packaged in plastic containers, shipped from many miles away. Even though it's a small impact in the broader scheme of things, the act of growing edible plants feels meaningful, and it can lead one to feel inspired to take on new challenges, such as growing vegetables, or starting a community garden.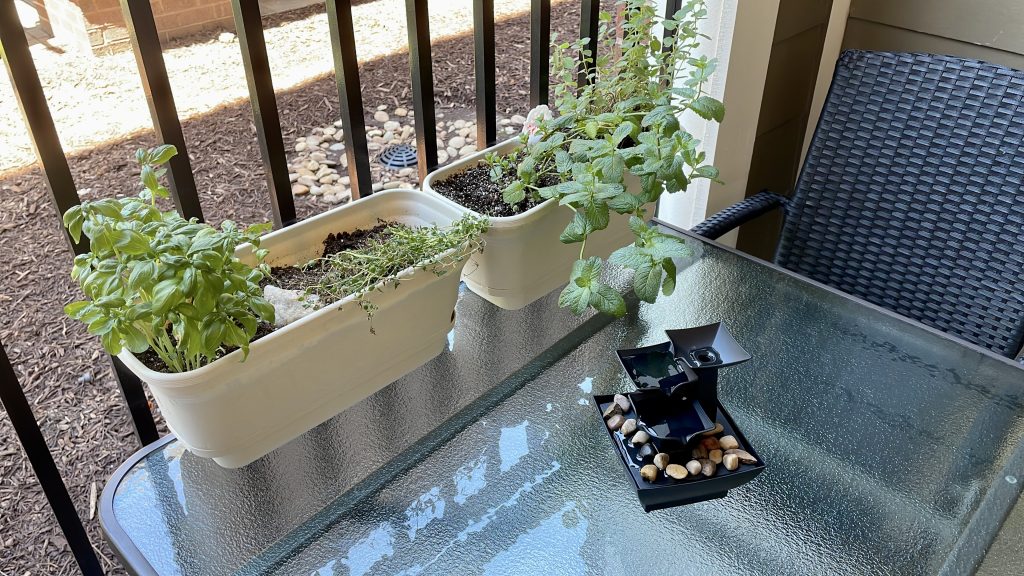 I started my herb growing journey in 2021 with a basil plant I purchased from Trader Joe's. Yes, I could have just planted seeds like a normal gardener, but I thought it would be nice to re-pot the plant in my herb planter and immediately have a thriving basil plant without needing to wait for the seeds to germinate. Shortly after my basil purchase, I found a set of four herbs (rosemary, thyme, basil, and mint) at Costco. I re-potted them in my herb planters, and had a nice collection of herbs to enjoy. The thyme didn't survive, but the others did well. I especially loved having fresh rosemary to use for a roasted sweet potato recipe!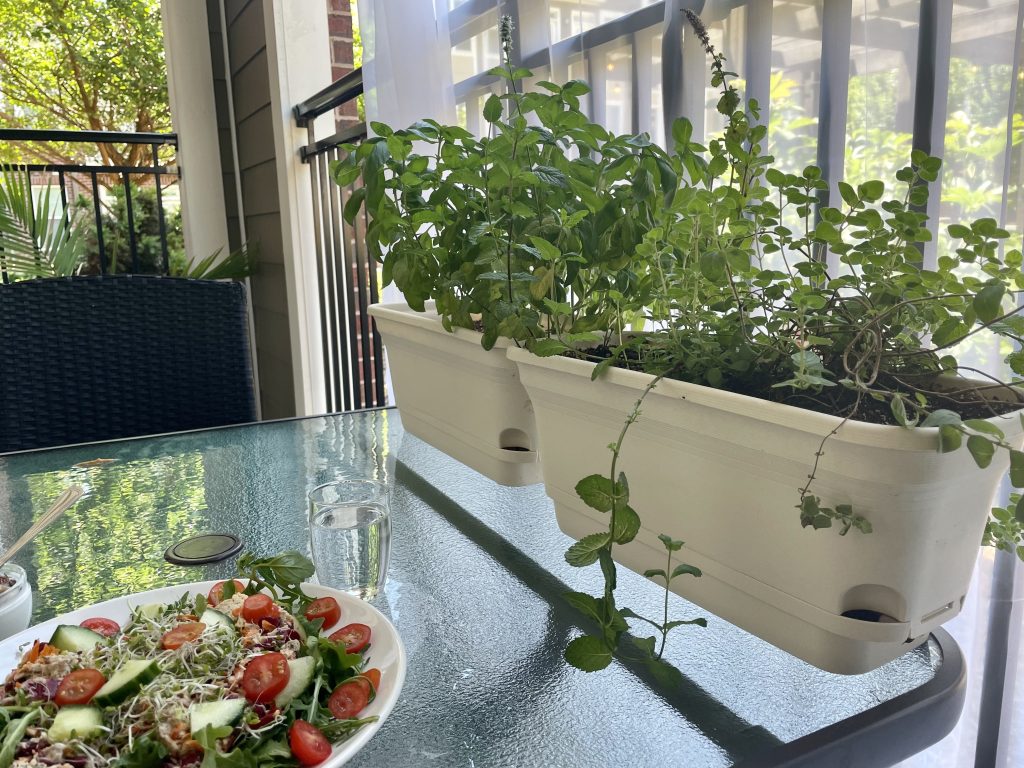 In 2022 I moved from New Hampshire down to North Carolina, and needed to leave my plants behind. As soon as I was settled in my new space, I started a new mini herb garden, and it has been successful since! This time, I started with basil, oregano, mint and thyme. The thyme didn't survive (again!) so I just added more mint. The herbs LOVED the summer heat and humidity (me, not so much).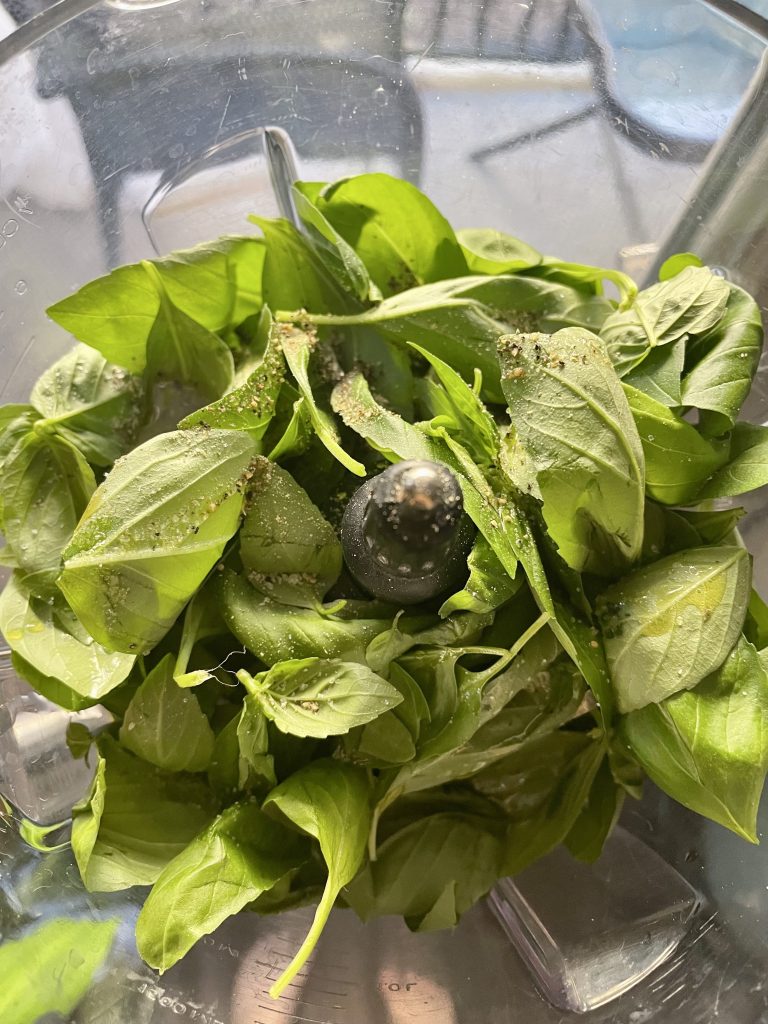 The highlight of my herb-growing journey happened when my basil plant exploded during the summer, and provided enough leaves to harvest for homemade pesto. It's a strange feeling having to harvest so much of a big, beautiful plant, but I had to keep telling myself that it was actually beneficial for its future growth. I harvested the basil stems and got to work in the kitchen.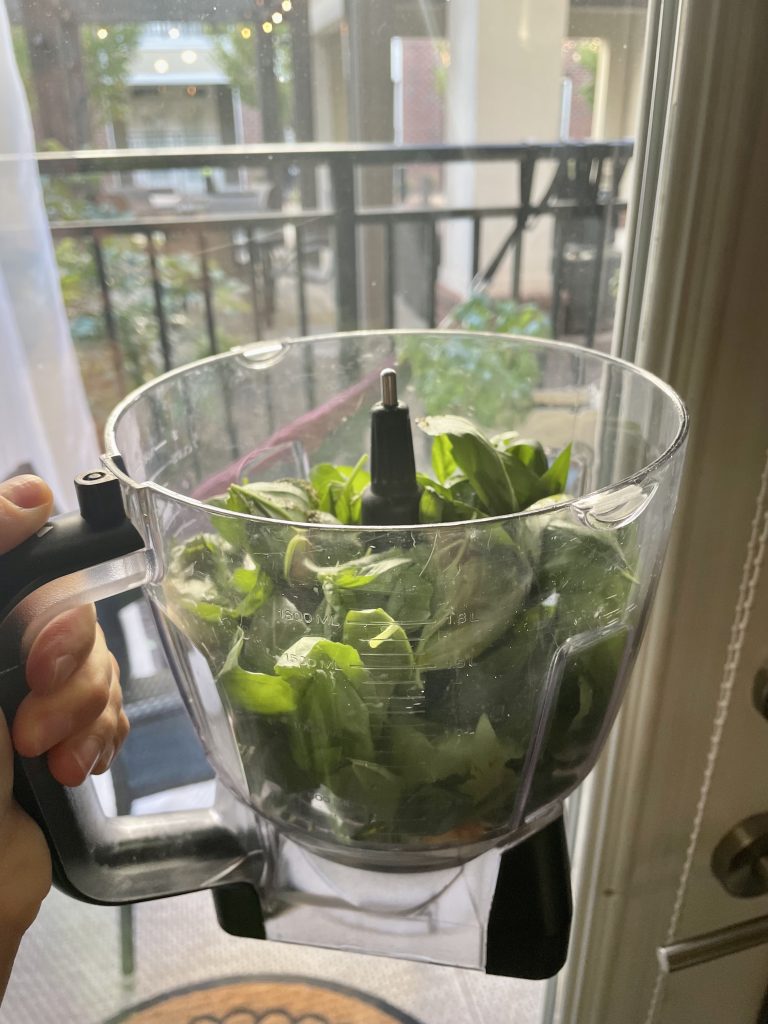 I pulled up a simple basil recipe online, but I didn't have all the ingredients on hand. I decided to just go for it anyway, and substitute walnuts for the pine nuts that are traditionally used in pesto. I didn't have parmesan cheese, used sharp white cheddar and hoped that the two ingredient substitutions wouldn't throw off the flavor too much. I kept everything else in the recipe the same, and the pesto was delicious!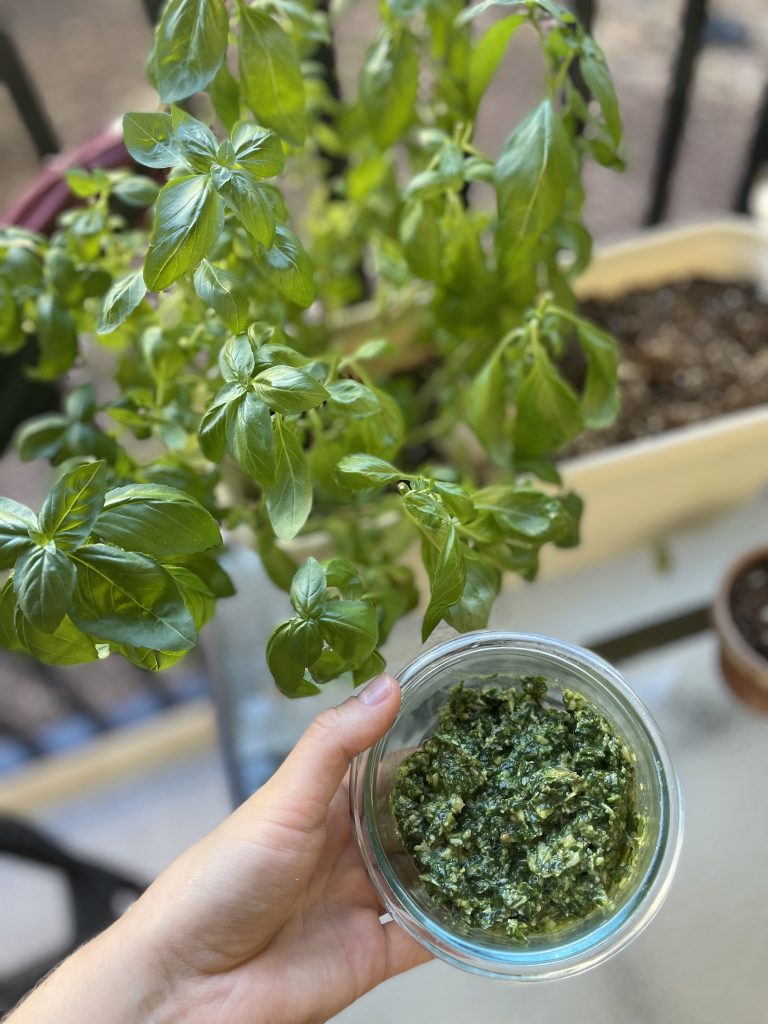 Here is the pesto recipe I referenced when making my own version. You will be surprised at how much basil is needed to make two packed cups! As mentioned in the recipe, you can substitute one cup of packed spinach if needed.
Making my first homegrown basil was the most satisfying experience. I really appreciated it, knowing that I would need to wait a period of time to have enough basil to harvest again. As I am writing this, it's been about a month since the pesto harvest, and I am contemplating whether to do another before the weather cools down.
Based on my two short years of experience, I would definitely recommend taking on the challenge of homegrown herbs as a way to connect with your food. I think it's the perfect way for recent graduates to enter the world of gardening, especially for those living in apartments with balconies. Also, if you are not a pet owner (like myself), caring for plants can help fill the need for wanting to care for something other than yourself.
Happy gardening!