Jolee Keplinger, Co-President of Sustainability Club, Principia Food Blogger
Last October, the Sustainability Club partnered with Dining Services to offer vegan desserts for Sustainability Weekend.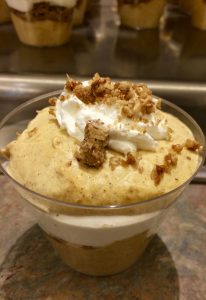 Since most everyone loves a sweet treat now and then, I figured offering free vegan desserts in the Scramble Room would be a way to raise awareness, since food choice is such a large component of living sustainably.
You may be wondering how dessert and sustainability relate. It's actually quite simple.
Most traditional desserts contain ingredients such as eggs, butter, milk, or cream. Unfortunately, these ingredients take far more resources to produce compared to their plant-based counterparts.
By making a few simple substitutions, any dessert can become 100% plant-based!
On behalf of the Sustainability Club, I proposed the idea to our wonderful Executive Chef (Trey McCartt) and he put the vision into action. I provided recipes sourced online, and our cooks created three delicious vegan desserts! Working with Sustainability Director Karen Eckert, Caia Gillet and I designed outreach posters to inform our peers.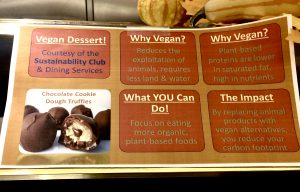 Because at that time I worked in our pastry department Saturday mornings, I had the opportunity to help create our delicious vegan Cookie Dough Bites – which joined Cherry Turnovers and Pumpkin Parfaits on the weekend's dessert bar.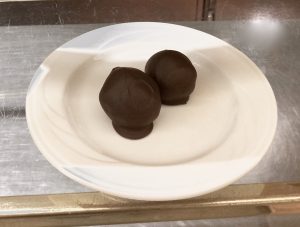 Theses desserts were not only more sustainable than their dairy-laced counterparts, but incredibly delicious! This shows that living sustainably isn't a chore, or even very complicated, it just takes a few small changes that will ultimately make a huge difference.
At Principia College, you can still find vegan desserts in the Scramble Room and C-Store – check out Dining Services' app for details. Here's a list of the current offerings.
Scramble Room: Apple turnovers, cherry turnovers, and any slice of fruit pie (no egg wash)
C-Store: Green & Black's Organic Dark Chocolate bar, Oreo cookies, and Dairy-free Ben & Jerry's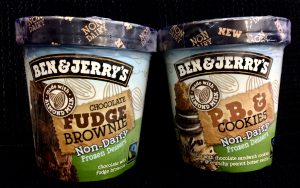 Here's video of students taste testing a few vegan alternatives:
https://www.facebook.com/PrinMuseVideo/videos/vb.186293775189013/187674758384248/?type=2&theater&notif_t=like&notif_id=1487199940719340
Want to learn more?
Visit http://www.onegreenplanet.org/environment/future-of-sustainable-food-is-plant-based/