By Jolee Keplinger (C'20) | Principia Center for Sustainability
What it is: The Green Dining Alliance is a restaurant certification program. Since its focus is sustainability, this alliance offers practical strategies to help restaurants lower their environmental impact.
The Certification Process: For a restaurant to be certified, it must commit to a few Core Concepts. A few examples are banning Styrofoam, recycling, phasing out energy inefficient equipment. In addition, the restaurant must receive an audit. Various aspects of the restaurant relating to sustainability are evaluated, and if the score is 80+, the restaurant is certified! To maintain certification, a restaurant must receive an annual audit.
Click here to see an interactive map of all the GDA certified restaurants through the St. Louis area. Is your favorite restaurant certified?
GDA-Related Experiences
Last year, I had the opportunity to experience a GDA audit for recertification at Principia College. Jenn DeRose (the program manager), the college's chef, and the director of sustainability participated. I learned how the point system worked, and joined the walk-through portion audit at the end. Due to a variety of sustainable practices Principia College has implemented, the 5-star rating was retained. (Click here to see what the GDA highlighted.)
My second experience with the GDA was at an event hosted at the Old Bakery, which is located just off of the Great River Road in Alton, IL. This restaurant is the first restaurant in Alton to be GDA certified!
In February, I participated in Alton's first Green Business Forum and represented Hungry Planet Foods. Hungry Plant is a St. Louis-based, family-run company that specializes in plant-based meats. I worked there summer of 2018 as a marketing and communications intern. Click here to see some of the delicious recipes made with their products.
At the Green Business Forum, Jenn DeRose, the GDA's program manager, educated the businesses and general public. It's worth noting that the Old Bakery is the first restaurant in Alton, IL to receive this certification!
My third GDA-related experience was a class field trip to the restaurant. My Sustainable Food Systems course met with Jenn DeRose (who again, represented the GDA) and Lauren Patton, one of the restaurant's owners. We learned about the Green Dining Alliance in relation to the restaurant. Jenn gave a presentation, and Lauren talked about her experience relating to sustainably in the restaurant business. We had a round-table style discussion and enjoyed Impossible Burgers. The restaurant's higher-than-average selection of plant-based offerings was a major highlight.
Comparing the Impossible to Conventionally Raised Beef:
It's made with 100% plant-based ingredients, and packed with protein. A key ingredient is heme, an iron-rich molecule that's also found in red meat. Taste-wise, you can't tell it's made of plants. If I didn't know I was eating an Impossible Burger, I would've assumed it was 100% beef.
The carbon footprint is 89% smaller (according to a science-based life cycle assessment released by the company). In addition, this burger uses 87% less water, 96% less land, 89% fewer greenhouse gas emissions and 92% fewer aquatic pollutants.
In addition to the Impossible Burger, which is always available to order, there are many and other dishes featuring plant-based proteins. There's even a weekly #MeatlessMonday special to encourage people to try a plant-based meal. Click here to see examples which are regularly posted on their Instagram account.
Sustainability Highlights:
Spent grain (from their brewery) is sent to a farmer in Fosterburg for cattle feed. Then, they use the beef from the farm on their menu when it's available.
The furniture was made locally (by Mwanzi), with reclaimed wood.
Their food waste turns into fertilizer. It's picked up by Total Organics Recycling, a St. Louis-based composting facility.
Since most of their solid waste is recycled, very little needs to be landfilled.
Energy efficient LED lighting is used.
Energy efficient appliances, as well as energy-saving practices, are utilized.
In addition, the Old Bakery sources its ingredients from local producers such as Hansen Meat Co. (located next door), Rustic Roots Farm, Marcoot Jersey Creamery, and more!
For example, the Havarti cheese used to make this delicious grilled cheese sandwich is sourced from the Marcoot Jersey Creamery, which located in Greenville, IL. This sustainably-run family farm raises its cows on grass, and has existed for generations. I first encountered their cheese last year when shopping at Three Rivers Community Farm Stand. Click here to learn about my Three Rivers experience. There, you will see that Marcoot's Havarti cheese is listed on my list of favorites.
The Old Bakery is not only a great place to gather and eat, but also serves as a leader for the city of Alton in terms of sustainability. This is represented by their 5-star GDA rating.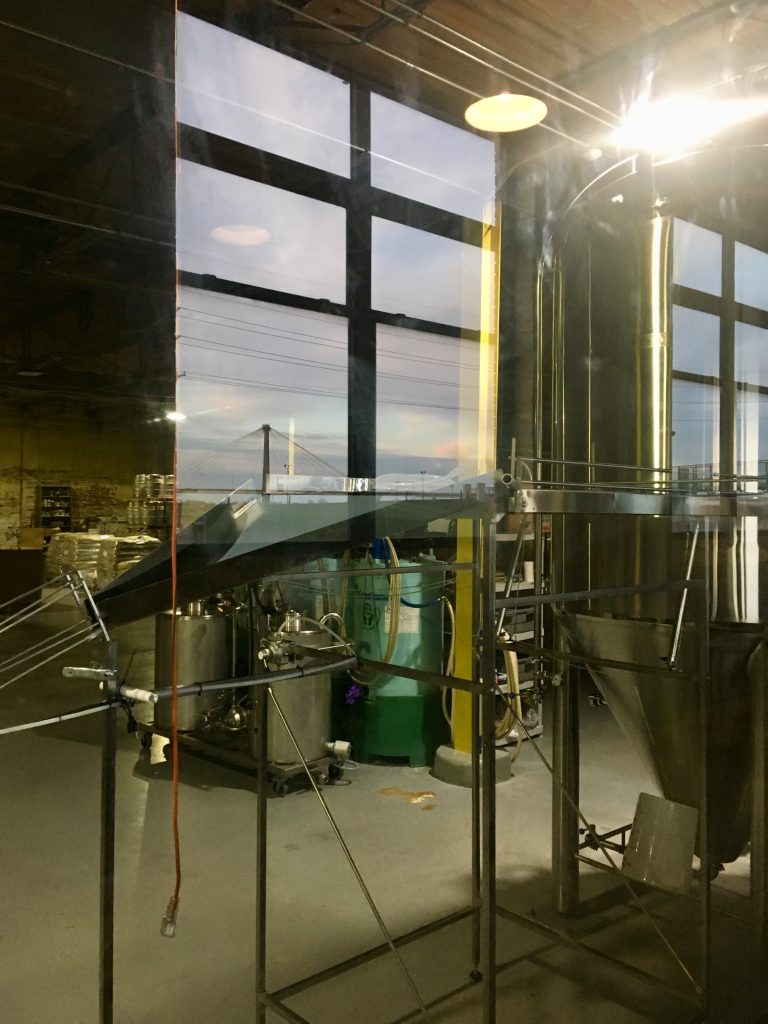 Now that you're more familiar with the purpose of this sustainable restaurant certification system, you'll probably notice "GDA Certified" stickers posted on windows of restaurants throughout the St. Louis, MO area!