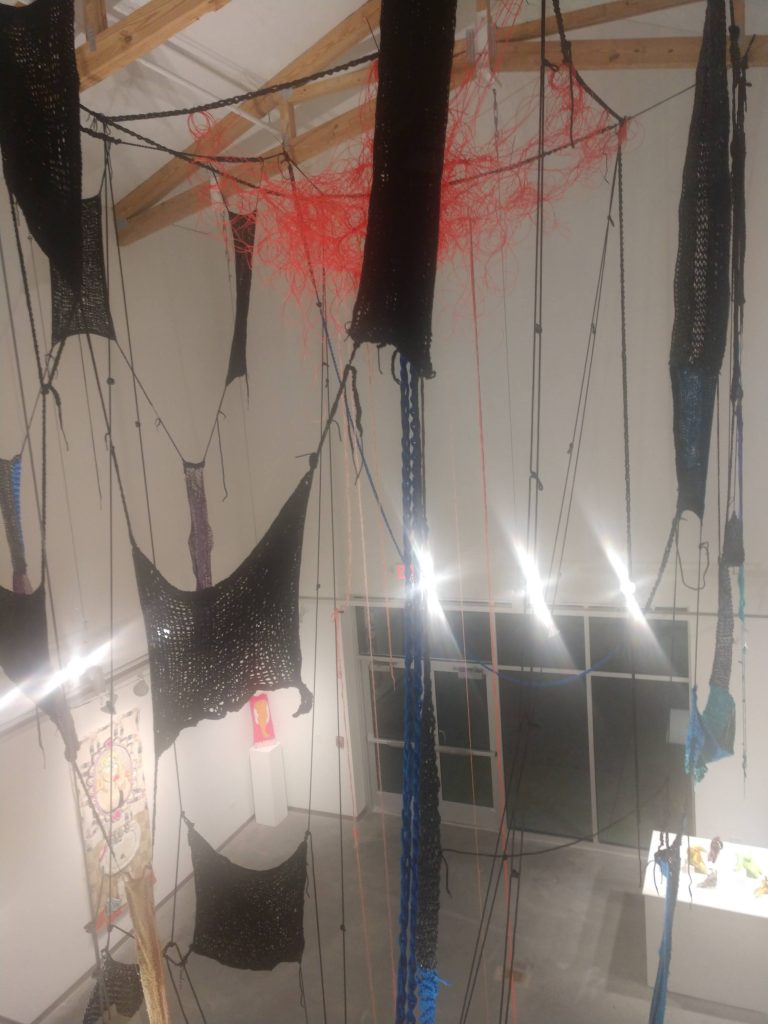 February 21 – April 1, 2023
Opening reception: Tuesday, February 21, 5:00 – 6:30 p.m.
Artist's Panel Discussion: Tuesday, February 21, 7:30 p.m., Wanamaker Hall
Sheila Pepe is best known for crocheting her large-scale, ephemeral installations and sculpture made from domestic and industrial materials. However, the exhibition "Sheila Pepe: Hot Mess Formalism," curated by Gilbert Vicario for the Phoenix Museum of Art, and the catalogue published with it, demonstrated that Pepe has built a more expansive and complex way of working since her start in the mid-1980s.
For more than 30 years she has accumulated a family resemblance (see Wittgenstein, Philosophical Investigations) of works in sculpture—installation—drawing and other singular and hybrid forms. Some are drawings that are sculpture—or sculpture that is furniture, fiber works that appear as paintings, and table top objects that look like models for monuments, and stand as votives for a secular religion. The cultural sources and the meanings twisted together are from canonical arts of the 20th century, home crafts, lesbian, queer and feminist aesthetics, 2nd Vatican Council American design, an array of Roman Catholic sources as well as their ancient precedents.
The constant conceptual pursuit of Pepe's research, making, teaching and writing has been to contest received knowledge, opinions and taste.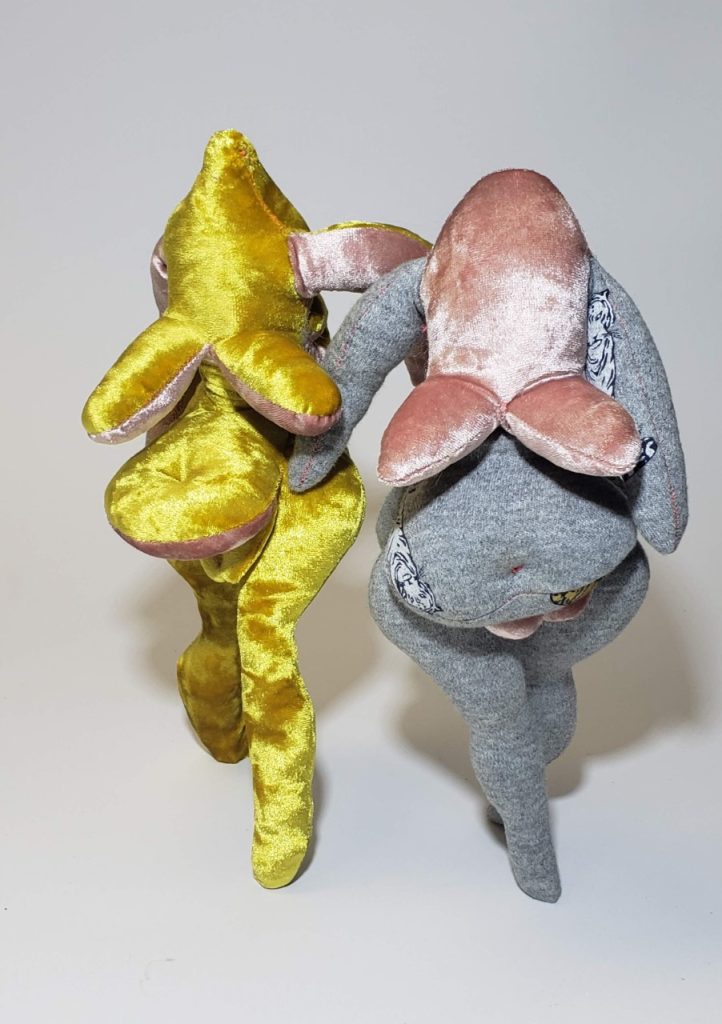 Heidi Blunt is a 2021 Master of Fine Arts graduate from The Vermont College of Fine Arts, Visual Arts program. She lives and works along the shores of Lake Superior in Superior, WI and is an instructor at The College of St. Scholastica in Duluth, MN.
Blunt's goal as an artist is to encourage a celebratory embrace of fat bodies as imperfectly perfect. Contrary to the vast and intricate systems that shame and demonize fat bodies, she feels it is imperative to point out that having a fat body is neither a moral deficiency nor intellectual failing. She unapologetically represents the body as positive and as a space for inquisitive exploration of the body's intrinsic contribution to the building of self-identity – a crucial step in the process of self-embodiment. While investigating questions that she has about her own embodiment, Blunt's work holds space for viewers to question and experiment with theirs. These investigations often take the form of participatory opportunities in which she incorporates the aesthetic tools of camp, humor, kitsch, play, and an uplifting color palette to encourage celebration of the fat body.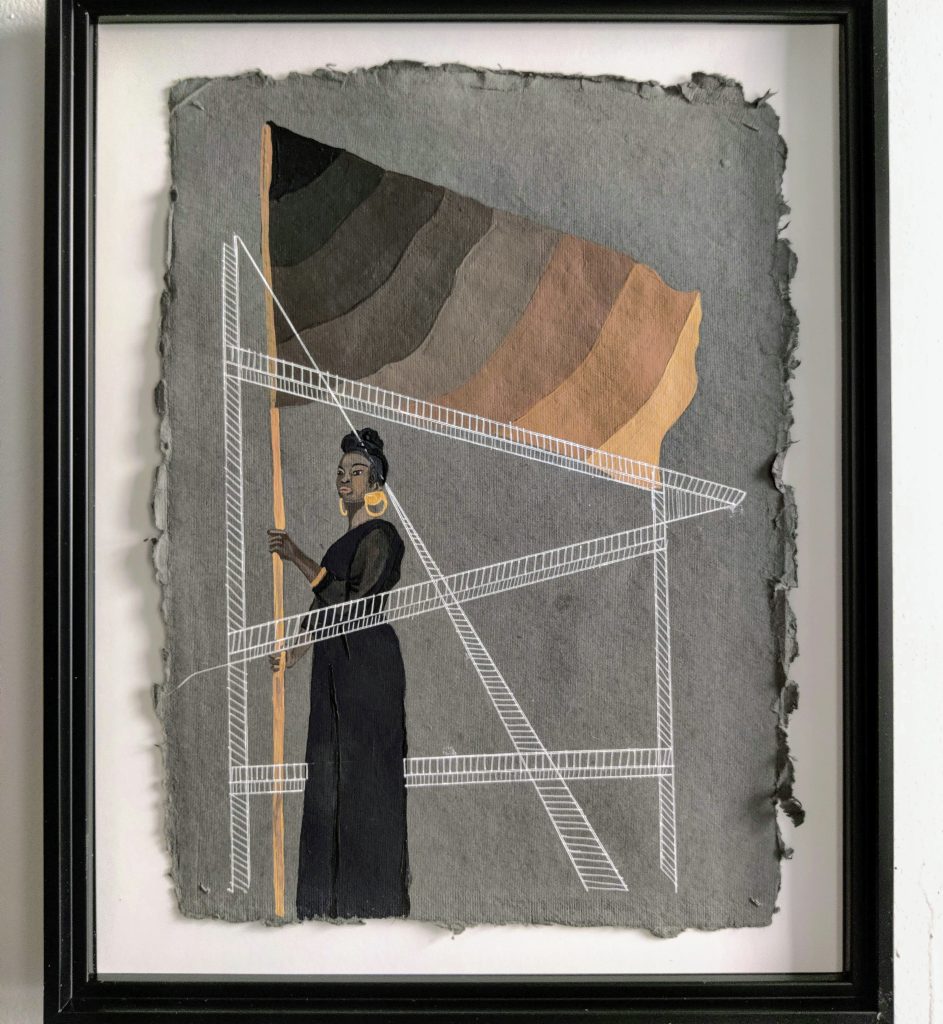 Élan Cadiz is an interdisciplinary North American Visual Artist that deconstructs and balances her intersectionality through her projects. Her art and practice are grounded in the documentation of her personal narrative through the use of historical imagery and the domestic.
Cadiz's art speaks to the promise in each individual and the struggle to overcome the barriers that prevent them from realizing their true, boundless potential. Her goal is to have viewers question their condition(s) in ways that bring about positive change in their lives and the lives of others. Cadiz attended Fashion Institute of Technology for two years after high school and continued and completed her undergraduate degree at City College of New York with a BA in Studio Art. Elan received a MFA Fine Arts degree from the School of Visual Arts where she was awarded the SVA Merit Scholarship, Paul Rhodes Memorial Award, and the Martha Trevor Award. She has been commissioned by the Studio Museum in Harlem, El Museo de Barrio, Art in Flux Harlem, Mount Vernon Hotel Museum and more. Cadiz was one of the first Sustainable Arts Foundation AIRspace Parent Artist Residence at Abrons Art Center; and, her An American
Family Album series was featured in VOGUE. Her artworks can also be found in New American Paintings magazine, issue #146, juried by Jerry Saltz and issue #153 juried by curator Lauren Haynes.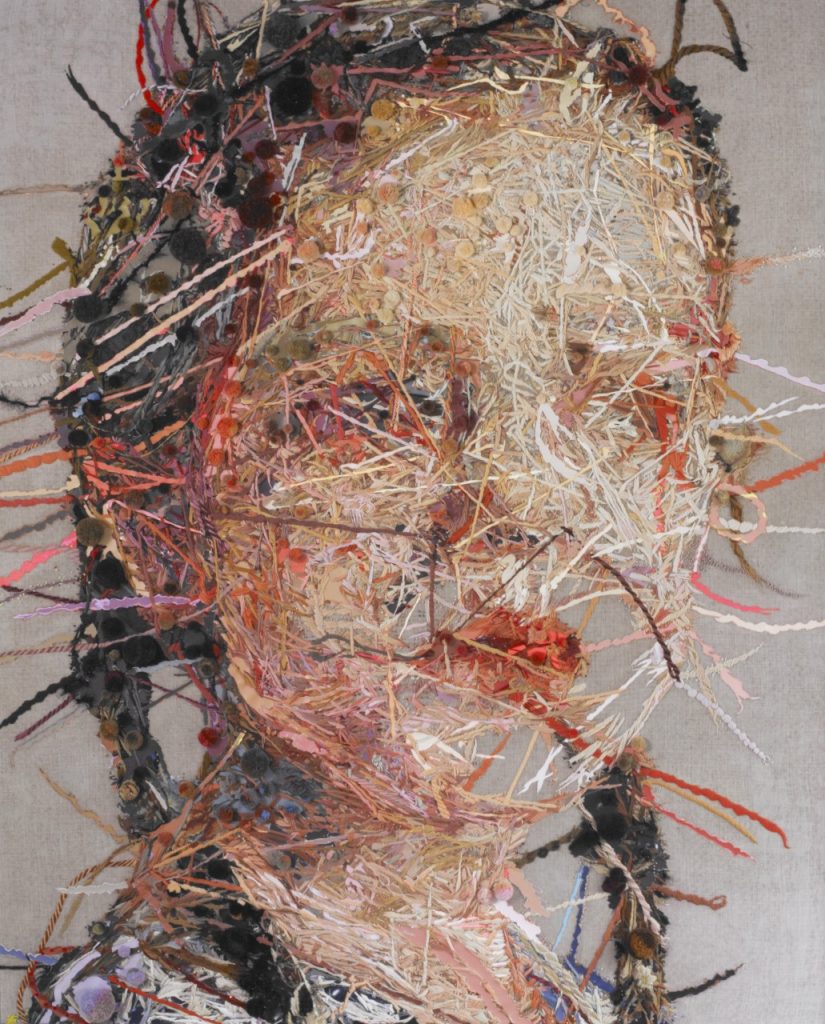 Cayce Zavaglia earned her Bachelor of Fine Arts from Wheaton College in 1994 and her Master of Fine Arts in Painting from Washington University in 1998. In 2001, she began incorporating wool and cotton thread into her practice and embarked on a series of hand-embroidered portraits of family and friends. Her unique sewing technique has allowed her to blend colors and establish tonalities that resemble the techniques used in classical oil painting. Her stitching methodology borders on the obsessive, but it ultimately has allowed her to visually evoke painterly renditions of flesh, hair, and cloth.
A few years ago, she began highlighting the reverse side of her embroideries in a series of gouache, acrylic, and mixed media "Verso" portraits. Historically, in embroidery, this side is always hidden from view. Zavaglia's work challenges traditional embroidery etiquette and the place of "craft" in art by allowing the viewer to see the loose ends, knots, and the movements of the maker on the back of each portrait. In doing so, she has initiated a conversation about the divergence between our presented and private selves. The production of both Recto and Verso portraits is now the primary focus of her studio work.
In 2014, Zavaglia was selected for the Great Rivers Biennial, and she mounted her first solo museum solo exhibition entitled Recto/Verso at the Contemporary Art Museum St. Louis. That same year, she was also awarded the prestigious Regional Arts Commission Artist Fellowship, which allowed her to embark on a research trip to Australia to document childhood friends for future works and exhibitions. Zavaglia has had solo exhibitions in Miami, Chicago, St. Louis, and New York City. Her works are included in the permanent collections of the 21c Museum and the University of Maine's Zillman Museum of Art, the West Collection, The Ria and Lex Daniels Collection in the Hague, and numerous private collections across the United States. Zavaglia has been living and working in St.Louis since graduation and is represented by William Shearburn Gallery in St. Louis.