Zoë Mahler
Welcome back! The spring semester is underway and if you're anything like me, then you'll have found that you already have more homework than you'd initially anticipated. I already have two paper assignments and it's only Week 2. But, have no fear, because your tutors are prepped and ready to lend you a hand!
So, if you didn't find yourself in the tutor café in the library last semester, then here's a quick guide to let you know everything a tutor can provide for you, should you find yourself in need of assistance.
First off, tutors are here to help. We aren't here to criticize; we're here to use as a resource. Tutors often act as a bridge between the professor and student. If you are having any difficulty knowing whether or not you've checked all the boxes on a rubric, tutors can help you review your work through multiple methods until both you and the tutor are sure you've set a good base for your paper and then elaborated on it.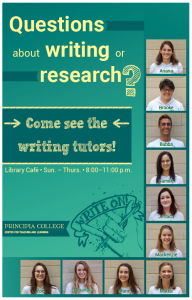 Tutors are also trained to help with the databases in the library. If you're in need of more sources for a paper, then tutors can help you search for and find credible sources from the multiple databases the library provides. (Here are some helpful blogs specifically on research.)
If you are in need of any help with citations, (MLA, APA, Chicago, SBL, or CSE) tutors not only have handy-dandy citation guides you can take home with you, but also have been trained in how to best present an annotated bibliography, works cited page, and footnotes.
And though this all sounds very specific, you can also just come to a tutor if you'd just like someone to read over your paper and give you some feedback. Tutors aren't going to take your paper and revise it for you, but the process in which both you and the tutor go through your paper will not only help you with the paper you're working on, but can provide you with the resources and tools to do well on the rest of your following papers.
The tutor station is open from 8 to 11pm, Sunday through Thursday. You can sign up at the tutor station for a half-hour slot, or you can just show up! We are more than happy to help you and look forward to seeing your work!
Zoë Mahler is a senior from Minneapolis, Minnesota working toward a double major in art history and mass communications and a minor in religion. This summer she will be a part of the archaeological dig taking place in Malta.