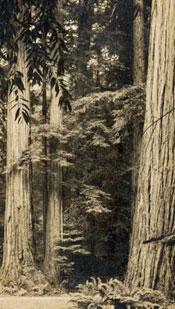 Chronology 1917-1924
1917
Frederic E. Morgan, son of Principia's founder, meets San Francisco architect Bernard Ralph Maybeck when visiting the Arthur E. Bingham family in Montecito, California. Maybeck, who had designed the Bingham house in 1916, was a frequent visitor. Morgan will marry the Bingham daughter, Madeline, in 1919.
1921
Summer, Bernard Maybeck invites Frederic E. Morgan, now director of Principia, to San Francisco as a guest of the Bohemian Club. Along with other members of the Club, they spend two weeks camping in the redwoods along the Russian River in Sonoma County, north of San Francisco. The area known as the Bohemian Grove is where Maybeck and Morgan begin their discussions of a college campus.
1922
May, Principia officially announces plans to build a four-year college campus.
1923
April, Maybeck travels to St. Louis to present his ideas for a college campus to Principia's Board of Trustees. During the next few years, Maybeck visits classes and interviews students, faculty and staff.
May 2, Board of Trustees commissions Maybeck to design a general plan for a college campus to be located on the Loch Lin Estate in Overland, Missouri.
1924
January, Maybeck returns to St. Louis and presents preliminary studies to the Board of Trustees. These drawings, which give a general layout of buildings, focus on three different architectural styles: Gothic, Georgian and English vernacular. With the exception of the Chapel which will be in the American Colonial style, the Board of Trustees selects the English village of the Elizabethan period as the dominant style and theme for the campus, and commissions Maybeck to begin plans to build the first unit. Maybeck again will spend a number of weeks at Principia talking with students, faculty and staff, and visiting the Loch Lin site.
July-August, Frederic E. Morgan is in San Francisco working with Morgan on the general plan for the campus.
October 31, Maybeck submits a general plan to the Board of Trustees.
November-December, Maybeck and daughter Kerna tour eastern United States for a month. Stops include Chicago, Boston, New Haven (Yale University), New York City, Washington D.C., and St. Louis.