Due to the COVID-19 public health crisis, the physical space of the James K. Schmidt Gallery is closed during the fall 2020 and spring 2021 semesters. Both scheduled professional exhibitions for the fall may be viewed as online exhibitions.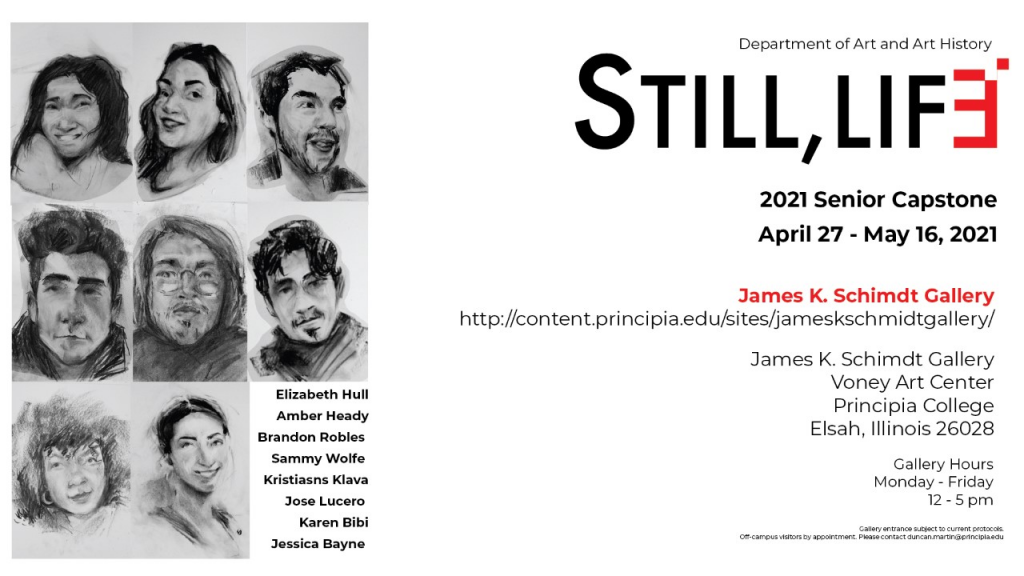 April 27, 2021
2021 Senior Capstone: Still, Life
An in-person and online exhibition, view here.
---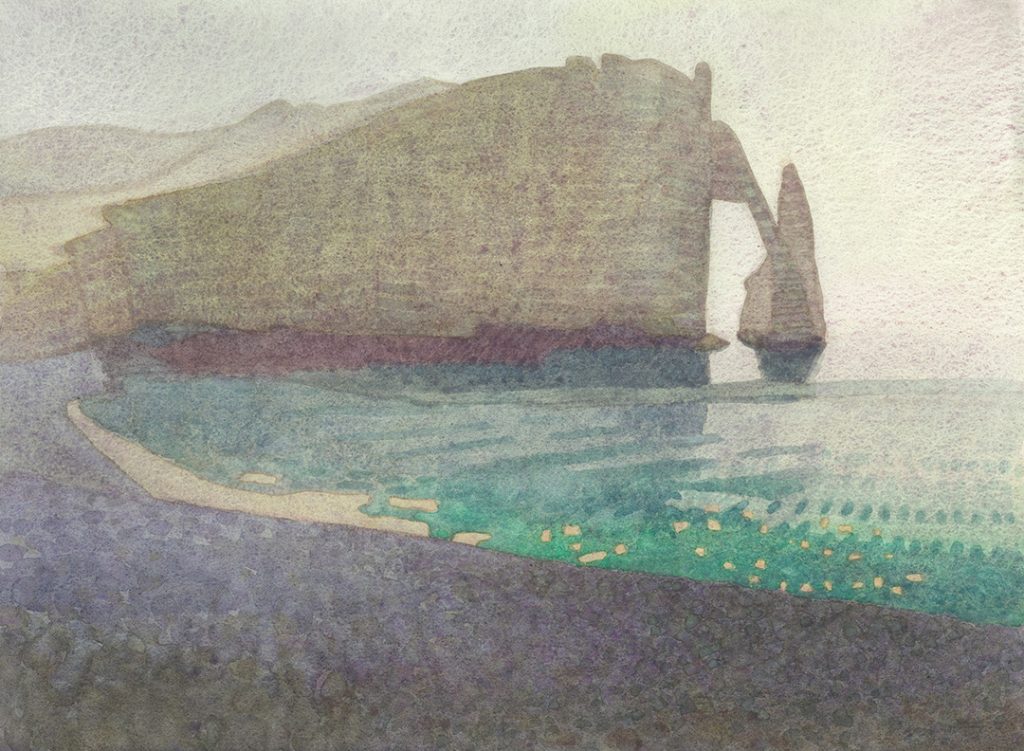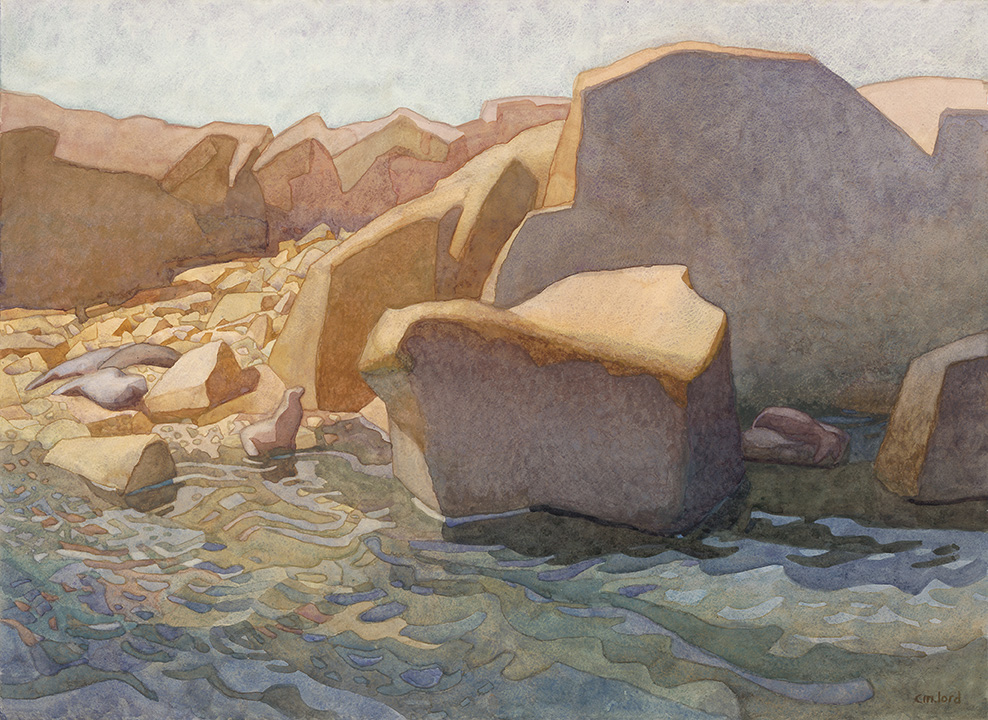 September 1 – January 31, 2021
In the Presence of Nature: Paintings by Carolyn Lord
An online exhibition
Prominent California-based painter and Principia College alumna (C'78), Carolyn Lord, is primarily a plein air artist. While at Principia she studied with nationally-recognized watercolorist and professor James Green. After college, Lord was influenced by the 20th Century California Watercolor Style of Millard Sheets and his peers which often features bold color and strong design. As her painting career developed, some aspects of Tonalism and Impressionism were integrated into her work. She is inspired by the regional landscape and is best known for her garden paintings.
---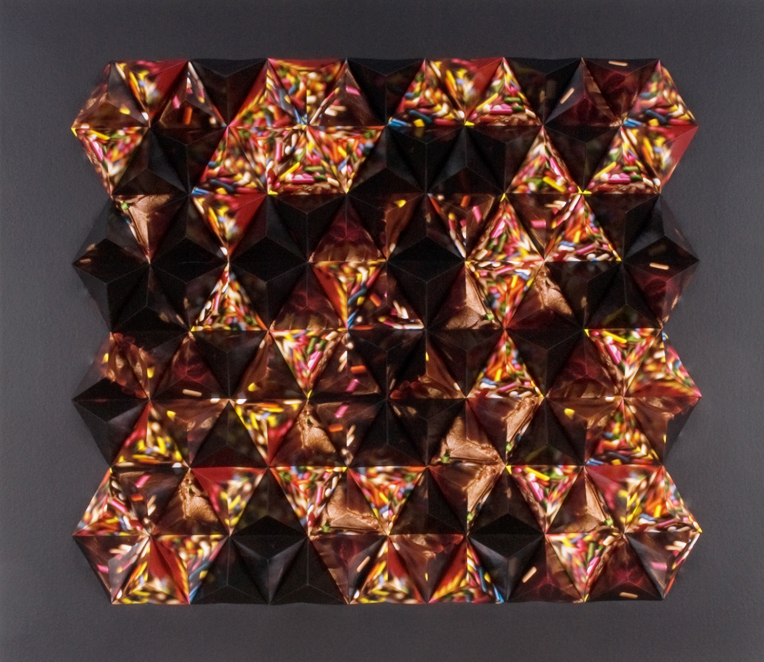 November 3 – February 28, 2021
Conceptual Reveries: A Survey of Multi-media Works by Jim Sconyers, 2003-2020
An online exhibition
Virginia-based artist Jim Sconyers, Jr. works in a variety of media, including printmaking, photography, digital media, and sculpture. In 2002, he received his MFA in Printmaking with Distinction from Indiana University's Henry Radford Hope School of Fine Arts. Since that time, his work has been selected for both national and international exhibition. He is associate professor of art and chair of the Department of Art and Art History at Mary Baldwin University in Staunton, Virginia.
---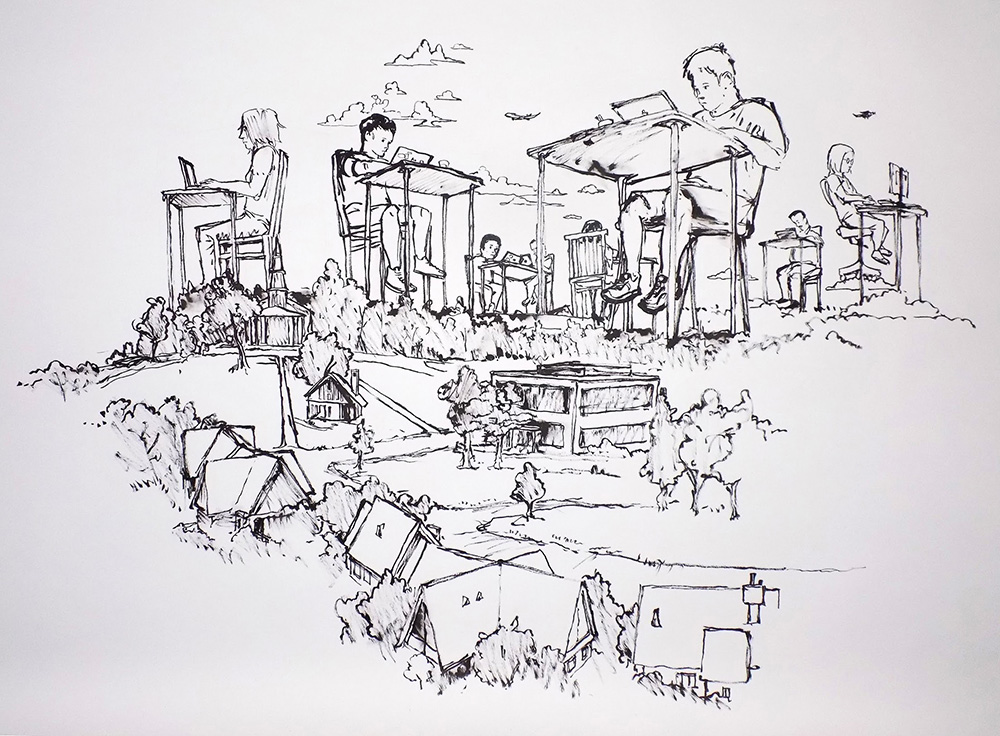 January 25 – February 28, 2021
Online PGTI exhibition: Aaron Cranford: New Work
Aaron Cranford graduated with a B.A. in Studio Art from Principia College in May 2020. He is the 2020-2021 post-graduate intern for the Department of Art + Art History at Principia.
---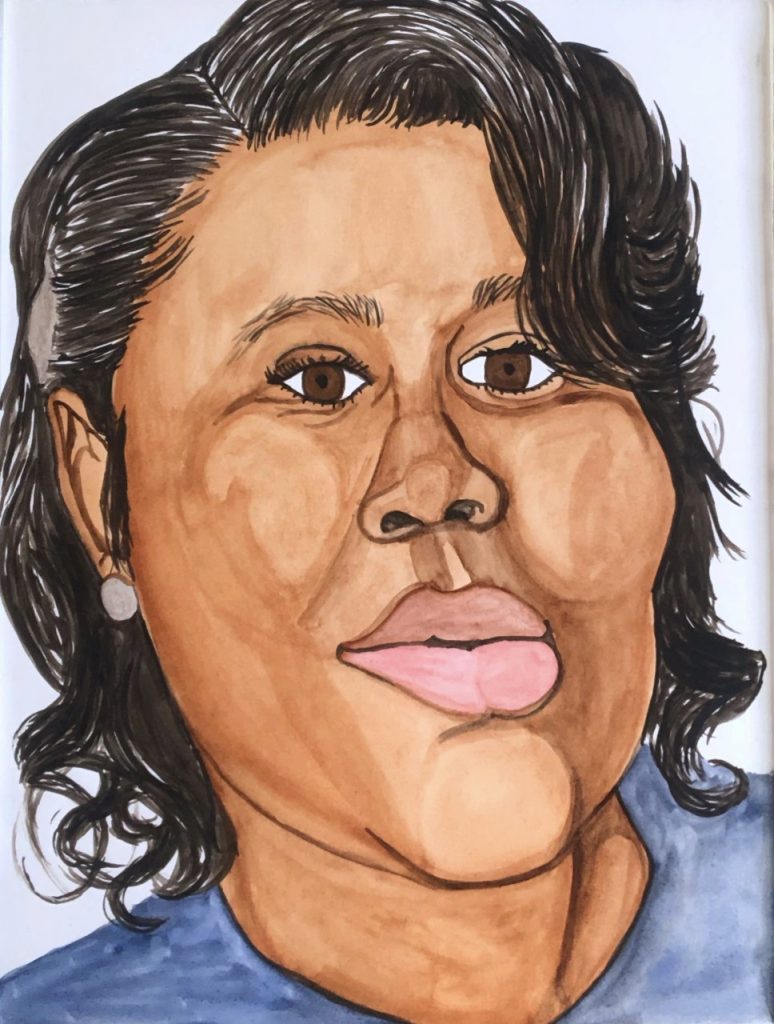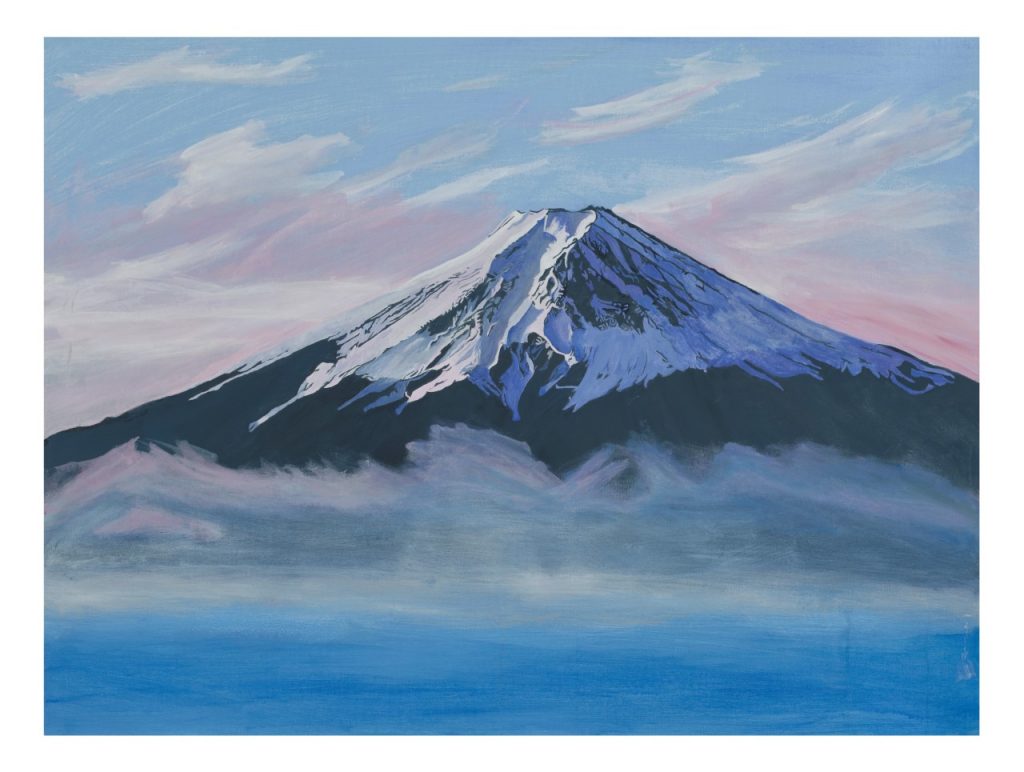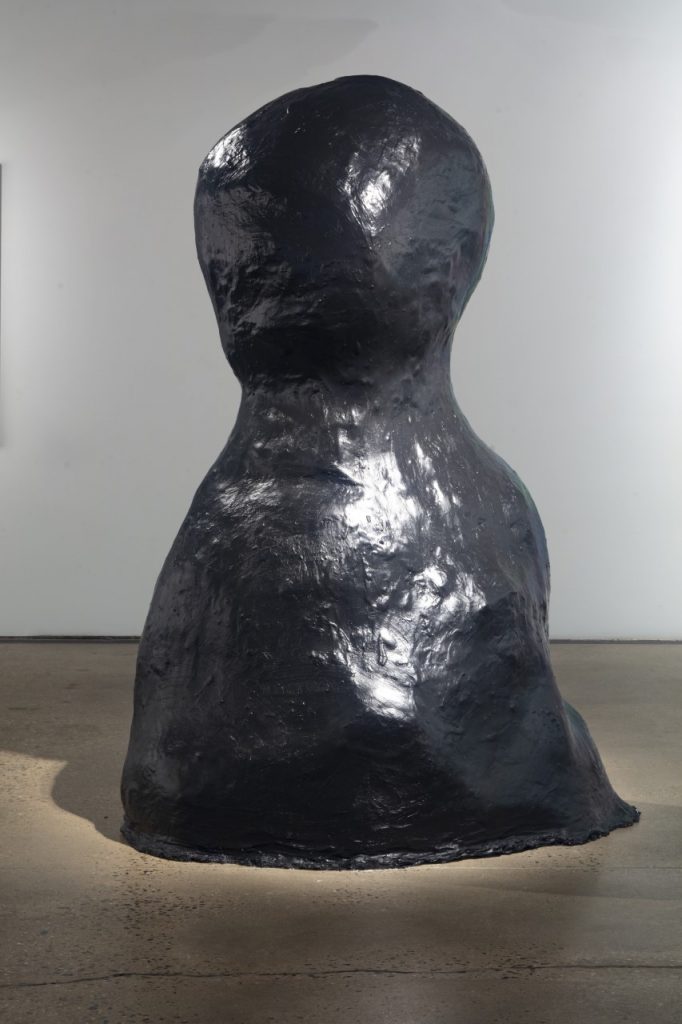 Dreams Deferred: Work by Rudy Shepherd
an online exhibition
February 16 – April 30, 2021.
Rudy Shepherd received a BS in Biology and Studio Art from Wake Forest University and an MFA in Sculpture from the School of Art Institute of Chicago. He has been in group exhibitions at P.S.1 Contemporary Art Center, NY, The Studio Museum of Harlem, NY, Bronx Museum of Art, NY, Art in General, NY, Triple Candie, NY, Socrates Sculpture Park, NY, Cheekwood Museum of Art, TN, Contemporary Museum, Baltimore, MD, Aldrich Museum of Contemporary Art, CT, Southeastern Center of Contemporary Art, NC, Museum of Science and Industry, Chicago, IL, Tart Gallery, San Francisco, CA, Analix Forever Gallery, Geneva, Switzerland and solo exhibitions at Mixed Greens Gallery, NY, Regina Miller Gallery, Carnegie Mellon University, Pittsburgh, PA. He has been awarded Artist in Residence at PS1 National/International Studio Program, PS1 Contemporary Art Center, Long Island City, NY, Artist in Residence Visual + Harlem, Jacob Lawrence Institute for the Visual Arts, New York, NY and Emerging Artist Fellowship, Socrates Sculpture Park, Long Island City, NY, Artist in Residence, Location One, NY, Process Space Artist in Residence Program Governors Island, Lower Manhattan Cultural Council, New York, NY. He has done public art projects on the campus of Carnegie Mellon University, Pittsburgh, PA, at Socrates Sculpture Park, Long Island City, NY, First Street Green Art Park, New York, NY, and the Three Rivers Arts Festival, Pittsburgh, PA in 2015 and most recently in Harlem in collaboration with the Studio Museum in Harlem.
He currently has two solo exhibitions on view: Somebody's Child at the Aldrich Museum of Contemporary Art, Ridgefield, CT and Calling All Gods at Latchkey Gallery in NYC.
https://www.instagram.com/rudyshepherd/
---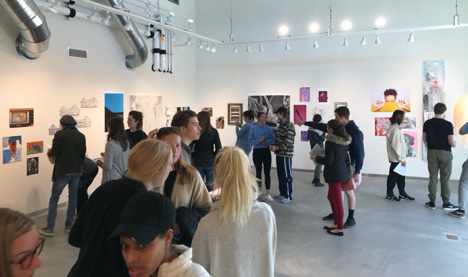 21: Annual Principia College Juried Student Exhibition
April 6 – June 30, 2021
This year's juror: Gary Passanise, artist and Professor of Art in the Leigh Gerdine College of Fine Arts, Webster University.
---
Artist Jane Barrow's exhibition, "Air to Air: Mixed-media Works by Jane Barrow," has been rescheduled for Fall 2021. Specific dates TBA.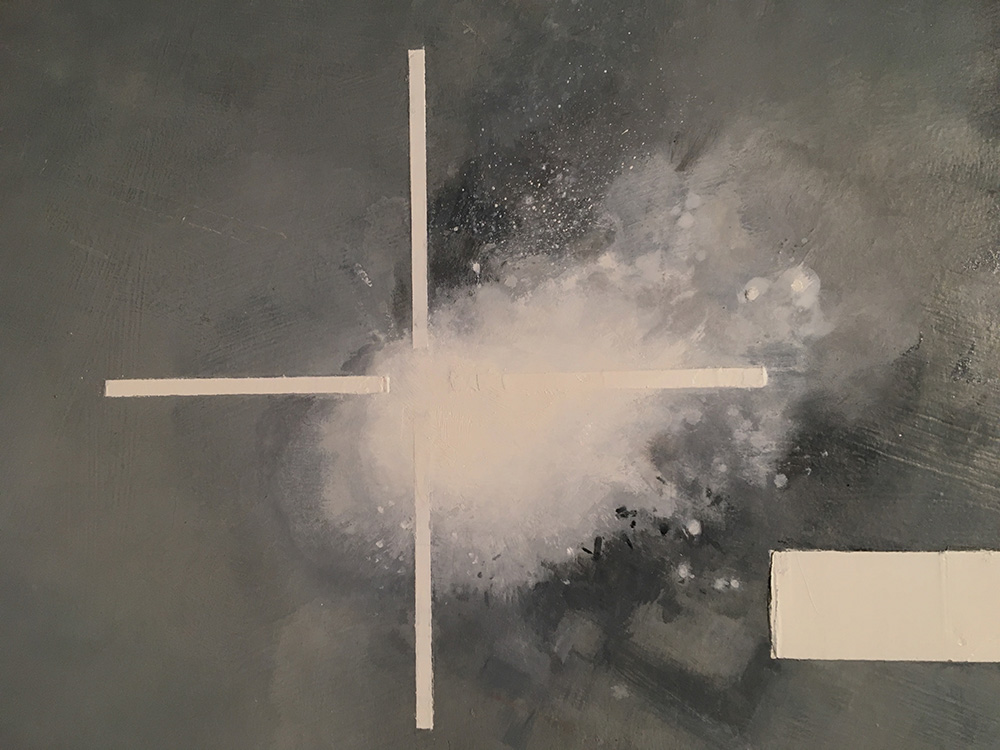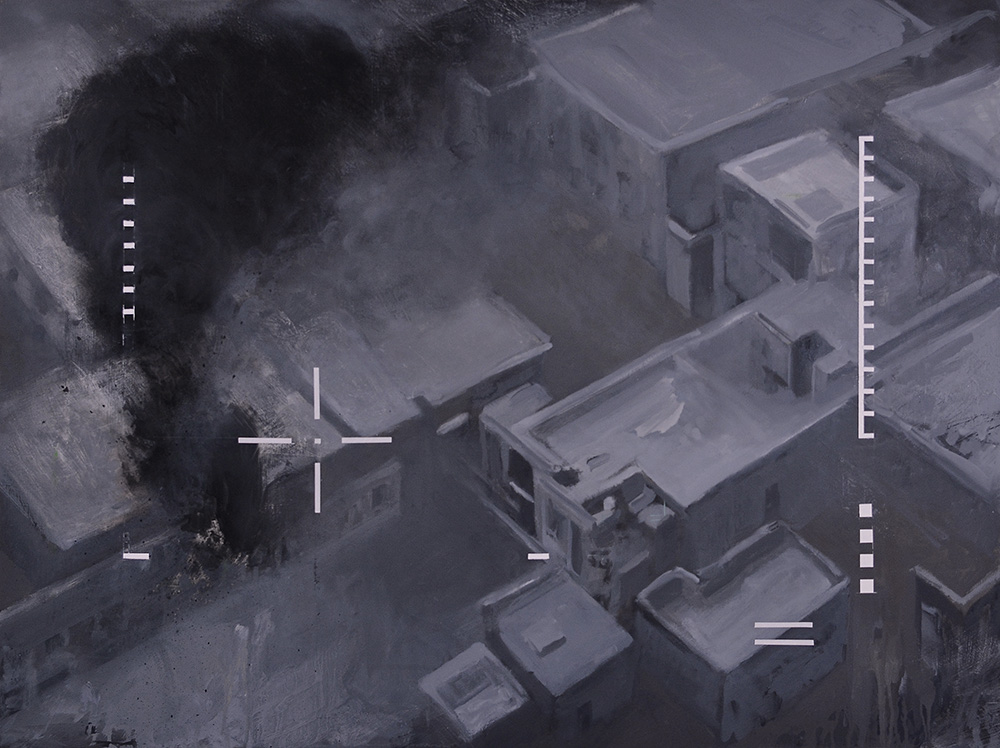 Air to Air: Mixed-media Works by Jane Barrow
Jane Barrow received her BFA from Rhode Island School of Design and her MFA, with distinction, from Indiana University in Bloomington, Indiana. A painter and mixed-media artist, she heads the painting area at Southern Illinois University in Edwardsville, where she is a professor and was tenured in 1999. Her work has been featured in major solo and invitational venues, and she has received awards in national exhibitions juried by artists Jack Beal, Faith Ringgold, and Lennart Anderson, among others.