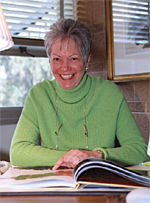 Jeanne Colette Collester
Professor Emerita of Art History, Principia College

Colette Collester was a member of the faculty from 1974 to 2002. In addition to her courses, she co-directed a number of art history/music programs in Europe. In 1999 she was the recipient of the St. Louis Mercantile Library's Donald T. Wright Award for her scholarly work on Frederick Oakes Sylvester. In 1988 she published Frederick Oakes Sylvester: The Principia Collection. In 1998 she co-edited, with archivist Jane Pfeifer, a guidebook for the College, Bernard Maybeck and Principia College: The Historic District, by Charles Hosmer. She now lives in Alameda, CA.
In 1995 Collester's biography on her step-father, Rudolph Ganz: A Musical Pioneer, was published by Scarecrow Press, Division of University of America, Inc. Reviews of the biography include the following published comments: "…a strong mix of factual information and personal insight. It is packed with the kind of information that scholars need." – Wynne Delacoma, Chicago Sun Times; "This fluidly written book gives an outstanding impression of a remarkable artist's career." – Andres Brinner, Neue Zurcher Zeitung; "…a long overdue, well researched account. Collester writes with order, sequence, and timely explanations of terms, social conditions and even architecture, bringing Ganz's world to life." – Robert Dumm, Clavier; "…a biography that is neither psychobabble nor gush. Admirers and new friends alike are in her debt." -Thomas Willis, Northwestern University; "…an exciting tale of the creative artists [Ganz] knew who changed 20th century music forever." – Studs Terkel, Chicago.