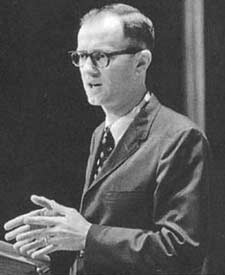 Charles Bridgham Hosmer, Jr. (1932-1993)
Dr. Charles Hosmer, Jr., was nationally known as the historian of the preservation movement in the United States, a title earned from his two pioneering publications, Presence of the Past: A History of the Preservation Movement in the United States before Williamsburg and Preservation Comes of Age: From Williamsburg to the National Trust, 1926-1949. These two volumes have become standard teaching and reference texts. The American Institute of Architects has designated them "the bible of the preservation movement."
Charles Hosmer was born in Naples, Italy, and raised in Washington, D.C.. He received his bachelor's degree from Principia College, and his M.A. and Ph.D. degrees from Columbia University. From 1961 to 1992, he was a professor of history, including architectural history, at Principia College. He held the first endowed chair at the College as the Jay P. Walker Professor of History. A very popular teacher who was equally known for his rigorous scholarship, Professor Hosmer instilled in students enthusiasm and dedication to learning. For decades he cultivated an appreciation and understanding of Bernard Maybeck's architecture on the Principia campus.
Active in local preservation, Dr. Hosmer helped establish the Historic Elsah Foundation, served as its president from 1971 to 1993, and was editor of "Elsah History" from 1980 to 1993. In 1967, he co-authored with Paul O. Williams, Elsah: A Historic Guidebook. In 1973, he wrote the documentation for the nominations of the Village of Elsah's historic district to the National Register of Historic Places, and later in 1991, the same for Principia College as a National Historic Landmark. He served several separate terms on the Elsah Zoning Board. From 1972 to 1976, he was a member of the Illinois Historic Sites Advisory Council, a panel that advised the state of matters pertaining to historic preservation and evaluated properties for National Register designation.