In fall 2021, writing tutors are available in the library Writing Café (3rd floor) Sun.-Thurs., 8-10pm.
They are available on Zoom at the same time. Additionally, tutors are available with flexible on-call scheduling. More info below.
We look forward to working with you at any point in the writing process. 
What's the schedule?
What's the schedule?
The tutors are ready to work with you on-call (that is, you schedule a time) or during scheduled hours.
See tutor photos and emails below.
How do I connect?
What can I expect?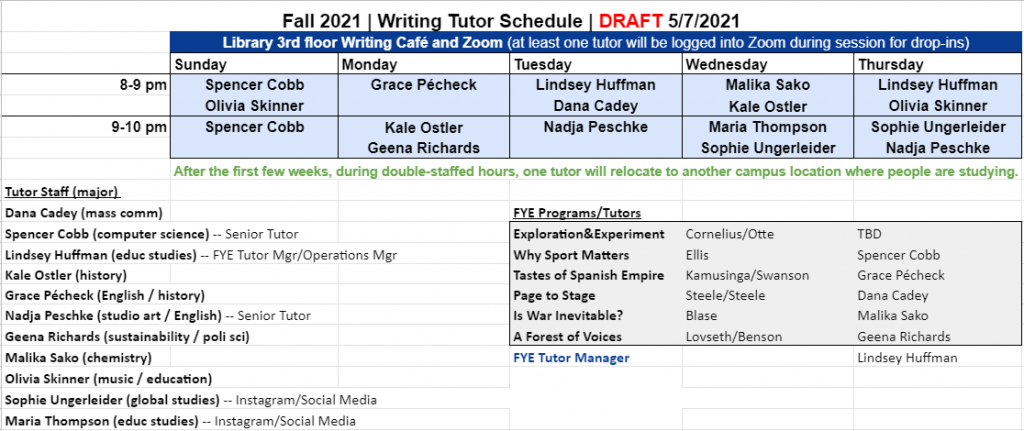 Our Mission:  To teach students strategies they need in order to succeed as writers.
In Pursuit of This Mission,
We offer a safe, confidential environment where we work with students to improve a piece of writing before they turn it in.
As students ourselves, we are familiar with the challenges writers face as they work through each stage of the writing process. To this end, we strive to empower students to write with confidence.
Although we will not proofread papers, we are trained to

offer suggestions
explain complicated rules
be a sounding board for ideas
share strategies and tools for overcoming common obstacles in researching, writing, and editing papers.
What is good writing? How do writers get better? What resources are there to help writers develop? And what about research? What are the best ways to navigate the library's database subscriptions and conduct research at Principia? If you are interested in these questions—and their answers—keep reading!
Teaching the Writing Process (WRIT 350) is designed for students who want to become writing tutors. It focuses on writing processes, tutoring strategies, research, style, and grammar. However, while most students who take this course are interested in being Principia writing tutors, many take it with an eye toward skills that will help them in careers or graduate school.
If you are interested in being in this year's class, please submit a sample of your academic writing—in hard copy or as an MSWord email attachment—to course instructor Ellen Sprague in the Center for Teaching and Learning. If you have questions, please contact Ellen at ext. 5145 or ellen.sprague@principia.edu.
Total # of Students Who Visited a Tutor in Fall 2019